Rebecca Mills has over 15 years of experience in the senior living industry. An East Tennessee native, Rebecca was raised in Kingsport, Tenn. Her mother was the director of nursing at a local nursing home, which is where Mills initially discovered her passion for working with seniors. She attended East Tennessee State University, and earned a degree in health care administration. Prior to joining The Pointe at Lifespring community, she held the executive director role for a skilled nursing home for 14 years. She has also served as the activity and social service director for a senior living community.
Senior Lifestyle Counselor
Chelsea has been serving seniors in the Knoxville and surrounding areas for nearly 8 years. She finds her passion in helping families navigate the journey to find an assisted living and/or memory care home for their loved ones. Chelsea is well connected in the Knoxville senior industry and prides herself on being a true partner with the families she serves. Her bubbly personality paired with her heart for seniors to enrich their golden years makes her the perfect person to help guide you during this time. In her spare time, Chelsea enjoys spending time with her husband Dalton, son, Dallas and pup, Lola. She is a Halls native and now resides in the Corryton area where her family attends Fairview Baptist Church. They are avid lake goers, specifically Norris Lake and she loves the Vols!
Health and Wellness Director, LPN
Lisa Conner-Crisp joined Integral Senior Living in May of 2019 as our Resident Care director. She began her career in the medical field in 1995 as an in-home certified nurse assistant (CNA). Lisa's love for the senior population continued to grow as she was able to use her skills to serve others. She has worked as an activity assistant, an activity director, a CNA II and medication assistant all in North Carolina. In May of 2010, she finished college and was pinned as a licensed practical nurse (LPN). Lisa moved to Knoxville in September 2010 and worked for the next eight and a half years as a Memory Care director.
Lisa is married to Mark and they have six children and eight grandchildren. Number nine's arrival is expected in March 2021. Lisa is a Christian and her faith in God is a very important part of her life. She also enjoys playing the piano, reading, crocheting and spending quality time with her family.
Director of SHINE Memory Care Program, LPN
Monica Maples serves as the Generations memory care director at The Pointe at Lifespring. She has 15 years of nursing experience in dementia-related care and is a certified dementia practitioner. Before working in health care, Monica worked as a supervisor and office manager. She found her passion for nursing after caring for her grandmother who was diagnosed with Alzheimer's. Monica has a desire for helping seniors and impacting their lives through nursing.
Judy Kitts is The Pointe at Lifespring's Business Office director and has over eight years of experience in the senior living industry. A native of East Tennessee, she was born in Tazewell, Tenn., and moved to the Halls area at the age of 7. Judy is a graduate of Halls High School and has been in a management role for over 20 years.
Judy and her husband, the Rev. Mark Kitts, are of Baptist faith, and Mark has pastored for the last 43 years. Judy and Mark have two daughters, Julie Morgan and Danielle Cooper. Together, they have a total of seven grandchildren: Bryson, Adyson, Ty, Nataleigh, Sidnee, Carleigh and Savannah, whom they adore. 
Director of Culinary Services
Parker has been in the food service industry for over 15 years working in different capacities, such as, restaurants, clubs, and healthcare settings. He truly found his passion serving seniors in various healthcare settings. He loves cooking pasta dishes and Mexican cuisine. In his spare time, he enjoys spending time with his wife, Brittany and their five kids on their farm where they have 2 horses and chickens. He is originally from Ohio and relocated to the South in 2013 where he has found a home here in Knoxville.
Amber has worked as a project and activity coordinator for nearly 14 years. Her experience comes from her time in the corporate restaurant and healthcare industries to managing her family's household for several years full-time. She is originally from Wapakoneta, Ohio and relocated to Knoxville in 2022 with her husband of 17 years, Alberto, and their two kids, Kennedy and Cristian. She recently found her true calling in activity planning for the senior population. She enjoys working in activities because it never seems like work. She adores the time they spend together daily and strives to bring the fun every day. In her free time, she loves watching cooking shows and trying out new recipes with her family.
Director of Facility Operations
Liam McClish, the Building Services director for The Pointe at Lifespring, is a Michigan native who grew up in a tiny town in the state's southwest and has over a decade of experience in facilities and operations management. Before moving to Tennessee, Liam was overseeing daily operations and facility functions for a live music venue and restaurant in Hartford, Conn. He moved to Tennessee and began working in the senior living industry after learning about a family member's struggles with Alzheimer's disease. Working in a setting where he can help serve and protect people who are going through the process of entering a senior living community is something he thoroughly enjoys.
Outside of work, Liam enjoys steak, doughnuts, camping, fishing, wakeboarding and kayaking. He also loves his wife and family very much and enjoys spending time with them.
Vicky Edmonds joined The Pointe at Lifespring team in January 2018 as the concierge. She is a graduate of Gibbs High School and currently resides in Corryton with her family. Vicky has worked in the health care industry for the past 23 years. She started as a CNA at Hillcrest, and after three years, she went into the admissions office. After moving to Amedisys, she worked for 13 years as a business office specialist. Vicky is passionate about working with seniors and loves to interact with people. Vicky and her husband, Kenny, have been married for 42 years. They have a daughter, Tiffany, and a grandson, Brayden, who is the apple of their eye. Vicky enjoys watching UT Football (GO, VOLS!!) and taking trips to the beach with her family and friends. She is active in her church, Bethel Baptist, where she serves as youth director. She also sings in the church choir and assists with coordinating the Women's Retreats.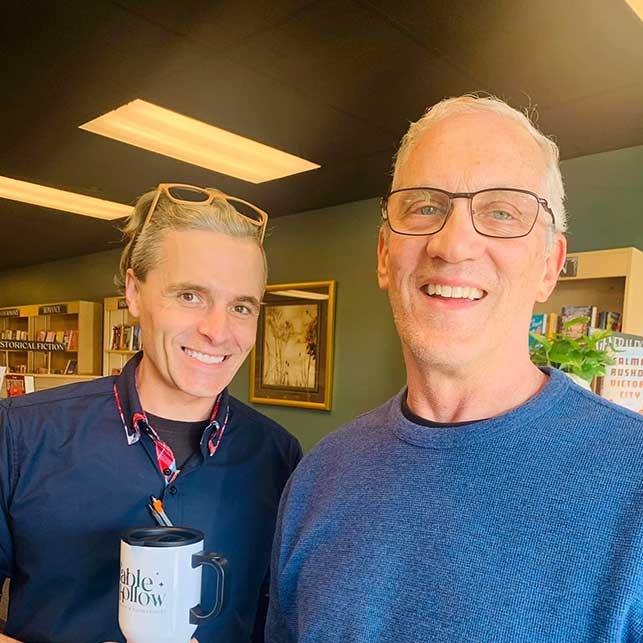 Aaron works with both Assisted Living and Memory Care residents to ensure they are transported safely to and from medical appointments. Additionally, he ensures residents are involved in activities and is always up to explore Knoxville and surrounding areas with them, even on the weekends! In his spare time, Aaron enjoys playing the guitar and spending time with friends and family.
Olivia is a Certified Recreational Therapist and graduate of the University of Tennessee where she earned her degree in Therapeutic Recreation. She found her passion for seniors with memory impairment while interning at an assisted living. She is a native of Virginia Beach and resides in Knoxville. Olivia specializes in memory care programming and ensuring our residents are engaged in vibrant activities that fit their cognitive level. She is a ball of energy and will always make you smile! In her spare time, she enjoys wakeboarding and playing pickle ball.
Ryan is our full-time onsite physical therapist. You can find him working 1:1 with residents increasing their mobility, assisting in transfers, enhancing their flexibility and strength. When he isn't working individually with residents, he is leading our daily exercise program, walking club and much more! Ryan is the Lead Senior Living Therapist for the University of Tennessee Home Health Care. In is spare time he enjoys spending time with his wife and 7 kids, hiking, and exploring the outdoors.